There are frequent train and coach services to Sheffield, the coach and rail stations are shown on the map. There are good bus services from the station to the Hallamshire Hospital, alternatively you could take a taxi, it is about three miles from the station to the hospital and taxi fares are about £5.00.
If you are travelling by road the easiest route is from the M1, Junction 33, follow the dual carriageway to the centre of Sheffield and you will arrive at the Ponds Forge Roundabout shown on the map, follow the road signs for central hospitals or the University and these will bring you close to the hospital.
For more info please follow this link http://www.sth.nhs.uk/our-hospitals/royal-hallamshire-hospital/how-to-get-here
Please use the map above to find nearby hotels and facilities. The Stereotactic Radiosurgery Dept can take no responsibility for the standard of Accommodation offered at any of the displayed links (NB The links for the Leapold Square hotel and restaurant complex iare not correct on the above links,please use the postcode on the link to assertain the correct location). Prices correct at time of publication, please contact individual hotels for updated information. For hospital residences which are just a short walk, adjacent to the hospital, please contact:
Hospital Residences, Beech Hill Road, Sheffield S10 - £22.00 per night.
Contact: Linda Daswell 0114 2712182
Email: Linda.daswell@sth.nhs.uk
(the contacts above are for the hospital residences only)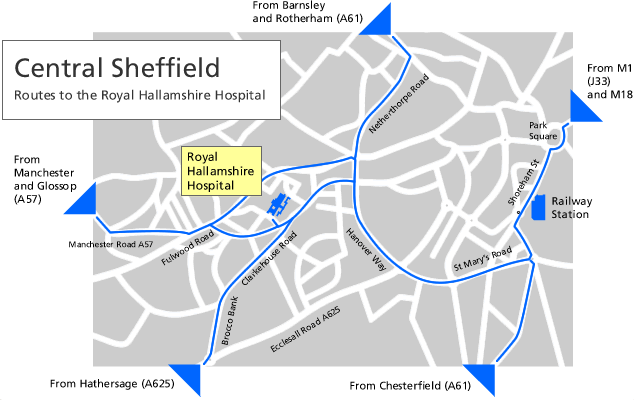 The National Centre for Stereotactic Radiosurgery
Royal Hallamshire Hospital
Glossop Rd
Sheffield
South Yorkshire S10 2JF
Call Us: 0114 271 1900
Fax Us: 0114 275 4930
Email Us: gamma.knife@sth.nhs.uk